Selling your extra or old stuff has always been the best way to make money fast. Every year, my relatives organize a community-wide yard sale.
Peoples put their old and used stuff like furniture, toys, clothes, and whatever else they have no need.
But with the passing years, the number of participants has been decreasing; the main reason for it is that there is a vast number of selling apps and other platforms that allow you to sell the stuff online — all from the comfort of your home.
These online websites or apps connect the buyers and sellers in different ways.
But with so many options, it isn't easy to understand which one is worth using for you. In this guide, we are going to discuss the best online selling apps in-depth. Without wasting your time, let's dive right into the topic!
What are Selling Apps?
Selling apps or websites are the online platform that provides the facility to their users to sell their old stuff online. These apps connect the buyers and sellers in different ways.
The 12 Best Apps for Selling Items Online
There are various websites or apps to sell the old stuff online, depending on whether you are selling a service or a physical product. In this guide, we will look at 14 of the best-selling apps that can help you to sell your old stuff quickly, either locally or online. So, let's dive into the topic.
1. Flyp
Flyp allows you to sell your old stuff across different selling apps without doing any of the selling work by yourself. This app is actually connecting you with different vetted pro sellers who sell your things based on commission.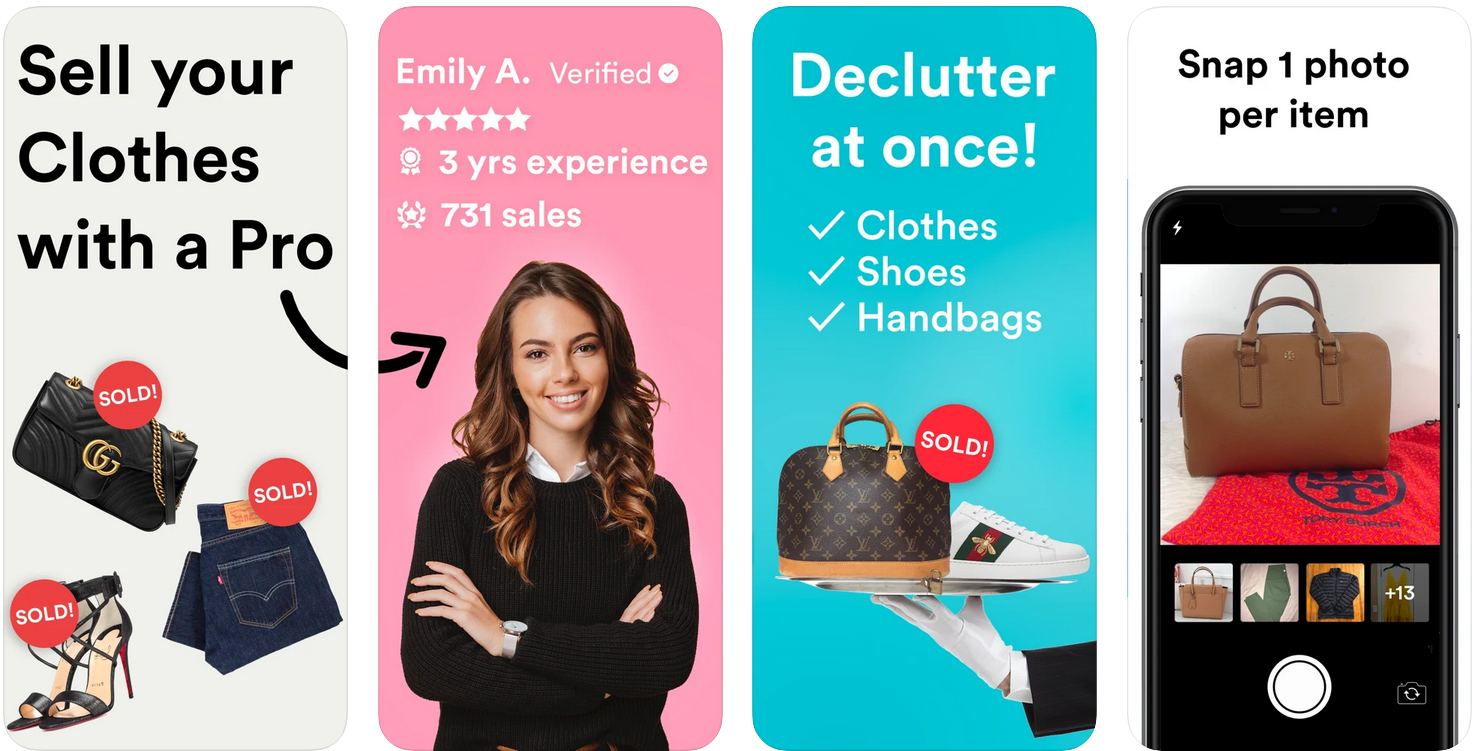 You download the Flyp app and put all the stuff that you wish to sell. Here sellers will tell you the estimated price and set their commission percentage; through this, you can pick your favorite seller.
After choosing the seller, print off a shipping label and mail all the stuff to the seller.
The benefit of doing this, you will no need to deal with photographing and modeling items, managing listing, choosing selling sites, dealing with customers, and handling shipping.
One important thing to keep in mind that if your items don't sell within three months, your pro seller will offer you other options like Sell these items at a discounted price, get the things back to you, or increase the selling period.
2. Decluttr
Decluttr is an online selling platform that allows its users to sell or buy their used tech-related things like games, DVDs, CDs, and tech online.
You pack your tech items,  print off the label, and put it off the nearest UPS location, authorized retail outlet, and customer center.
After your items sell, you will receive the payments through check, PayPal, or a direct bank deposit.
The process of selling with the Decluttr is straightforward. You install the app and register your items on it. If you move to sell your items with the sale, Decluttr sends you a free shipping label to ship items.
3. BuyBackBoss
Buyback Boss is a marketplace which allows their users to sell or buy their old or new electronics items online like Electronic watches, mobile phones, tablets, drones, laptops, and even cameras.
You just download the app, and if you want to sell your items, you need to fill out an online form. In this form, you will tell about your product, specification, and condition which you want to sell.
Once you submit this form, the app will send you the estimated quote/price. If you accept it, they will send you a free shipping label. You just need to put your device in a box and send it.
4. thredUp
threadUp is another trustworthy online buy and sell platform out there. This app allows its users to sell used clothes online.
This website only lists those specific items which customers are looking for.
To get started, you need to order a "clean kit" from the website and then fill this bag with clothes you want to sell.
When the parcel reached at threadUp, they will sort your items. Either accept or reject your clothes.
After selling your clothes, your payment is processed. You will receive your compensation through PayPal, VISA card, or threapUp shopping card.
5. OfferUp
OfferUp is another buy or sells an app that connects buyers and sellers to each other. It allows the sellers to sell items like cars, jewelry, mobile phones, and other tech items with a local buyer. You just upload the picture of your item, write some description, and add your location.
Like other selling apps, OfferUp also allows both sellers and buyers to communicate with each other.
OfferUp also offers a network of public community meetups in different locations, such as police stations.
The only con of using this site that it will charge a 12.9% fee of the total cost of the product.
6. Poshmark
Poshmark is a platform that provides the facility to the buyer to list their extra old items. You can list here like home accessories, clothes, and much more.
You need to register yourself and make an account and then upload the picture of the item you want to sell.
In this platform, buyers pay for shipping, but some sellers offer free shipping to grab more buyers.
This platform's only disadvantage will charge a high commission fee (20% for those items whose price is more than 20$ and 2.95$ fixed price for those items whose price is less than 20$).
7. Facebook
Facebook now becomes one of the most powerful platforms to sell every type of item online. Through Facebook, you can reach potential customers in your social media network.
There are various ways to sell stuff on Facebook. Below, I have mentioned some ways:
Facebook Sell and Buy Groups:
One way to sell items on Facebook is through a local buy and sell groups. You will join the FB group before start selling, and groups often have categories. Some groups may target mens related items, while others are targeting the babies related entities. Read the group description before listing your stuff.
Facebook Busines pages:
You can also make a specific business Facebook page for your business; you can sell the items directly from that page by adding the "Shop Now" button.
You can also run the Facebook ads to sell your items.
8. Instagram
After Facebook now, Instagram made one of the biggest online selling platforms. Typically Instagram does not offer a specific section for selling things. Some people still use them to sell different items like clothes, watches, handbags, or related articles.
You could create a business account and sell your items directly through it.
The downside of this, you are limited by the number of followers you have. Some peoples try to increase their post reach by including trending or related hashtags like #usedcars.
9. 5miles
5miles is one of the best online selling apps. It's an online marketplace that's simple, easy, and, and fun to use. With this selling app, you can filter your results within 5 miles of your current location.
Categories include the same items as others like electronics, home accessories, furniture, clothes, etc.
With the main feature of this app, you can also list different services and jobs. However, the 5miles app is very famous in the US and some other big countries. So, you are more likely to get a job if you are near one of its big cities like New York, California, or Miami.
10. Trove Marketplace
Trove Marketplace is a place where you can sell and buy furniture online.
Seller list an item on the Trove app set the fixed price, or accept the buyers' bids. Seller also decides what kind of payments you want to accept, such as debit/credit cards or petty cash.
Once the seller accepts the buyer's offer, then schedule a time to meet your buyer and make the items exchange.
11. Chairish
Chairish is also used for selling your old furniture online. But this selling app only accepts the items its audience will be interested in.
You just take a picture of the furniture you want to sell and write the title and description of its condition.
When your item is sold, the buyer can return it within 48 hours; that's why your payment is released after 48 hours. Chairish also cut the 20% commission of the total amount.
The main difference between Trove and Chairish is that the items on Chairish have a higher selling price than Trove.
12. Airbnb
If you have some extra space or a spare guest room in your house or outside the house, you can earn money by renting it via Airbnb renting app.
According to a survey of 2017, peoples who use Airbnb earn almost $500 a month.
Register yourself on it is very simple and straight forward. Just take some snaps of your room or space, add some description, and quote your price. You can get better results if you clean your space and decorate it.
10 Best Place to Sell your Services online
1. NextDoor
NextDoor is the neighbourhood specific social media app. It serves as an alternative to Facebook pages or community groups.
It's a great way to sell or buy services to your local community. The main advantage of this app there is only the verified sellers or buyers on it.
This app encourages people to promote their stuff or businesses, but this app has some rules like, if you are selling services through your profile, you must add this business to the biography area of your profile.
2. Fiverr
So far, we have covered multiple options for selling the products. However, there are plenty of options for selling services online.
Fiverr is one of the most popular best online selling apps, which allows its users to list their services here. You can set the price according to your services here.
You can also offer a wide variety of services on it(more than 100) like content writing, Software development, graphical designing, translation to another language, and much more.
You just create an account on Fiverr, create the gig about your service, set the price, and start selling your services.
It's free to set up your account on Fiverr, but it will cut the 20% fee of the total service fee you have charged your customer. But you will get your payment through Fiverr after 14 to 17 days after.
3. Rover
Rover is an online service selling app that is specifically designed for pets. You can find and give the services related to pets like daycare or pet sitting. This app connects the pet owners with trustworthy, reliable pet caretakers.
To get started, create the profile, give the information about the services you can offer, add your location. You can start selling once your profile is approved.
All the payments are made through Rover, and the app takes a 20% fee. If you are a pet lover and want to make some money in your extra-time, this could be the best option for you.
4. Upwork
Upwork is another popular freelance platform that connects freelancers and businesses around all over the world.
To get started, you create a profile on it and give the details, experience, and service you offer. Once your profile is approved, you can start selling the services.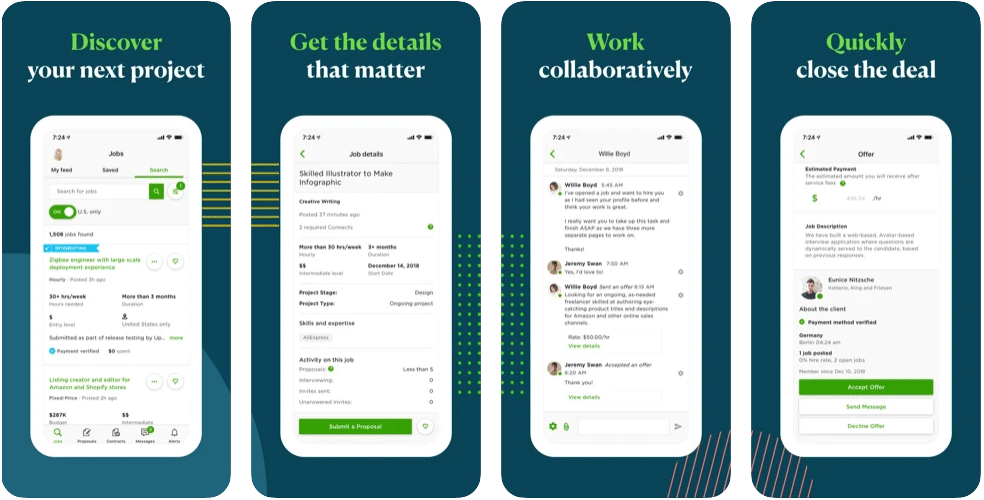 In this platform, the criteria for applying for jobs is a little bit different. You can apply for jobs with the help of connects. The cost of each connect is $0.15, and a single application can use over 6 tokens.
You can buy these tokens in bundles of up to 60. There are also two types of jobs, one is hourly based, and the other is fixed price based. After the project is completed, Upwork will transfer the money to your account within some days. You can transfer your payments to your PayPal or direct bank transfer.
5. Care.com
Care.com is an online website that sells services like pet care, babysitting, and housekeeping. To get started to sell services on this platform, you need to build a profile that includes information like your skills, experience, and add what services you want to offer.
Customers will pay you according to your profile and how competitive you are than others.
It's a free platform, although there is also a paid membership available that can increase your profile visibility on the website.
6. Airbnb Experiences
If you don't have the extra space or room in your home to rent, you can still earn money with the Airbnb Experiences app.
You can provide the services like a fitness class, lead a group for a tour and other this type of service on it.
7. Amazon Home Services
Amazon is one of the most popular platforms in the world. Now Amazon is not specific for the products like kitchen accessories, home products, or books; you can provide home services on it like house cleaning, plumbing, and furniture assembly to people in your area.
Like other sites, Amazon also checks your criminal background and gives proof of licenses and insurance on Amazon Home Services.
8. TaskRabbit
TaskRabbit is another home services platform like Amazon Home Services. If you think you cannot qualify for Amazon, you can try on TaskRabbit.
This app connects the customers with those peoples who can help them with different tasks like home things repairs, moving furniture, cleaning home, plumbing, and much more.
You can also find the jobs in your area by submitting the job application on it. You can set your own rates on it, but TaskRabbit handles the payments collection process by itself.
9. Udemy
Udemy is a platform where you can sell your different courses if you have any professional skills like teaching English, Web development, Graphical designing, and much more.
For starting, you need to make a profile and list your courses on it. Customers can buy the courses on it via different payment methods like PayPal or direct bank transfer.
Clients can also give feedback and review after buying the course. According to the report of 2020, there are 57,000 instructors, and more than 35 million students are using this platform all over the world.
10. Thinkific
Thinkific is an alternative platform for Udemy. This platform also provides the facility to businesses and peoples to sell & create the courses online.
Thinkific is a platform that has everything to run your education business under a single roof.
By starting, you need to create an account on it; after approving your account, you can list your best courses on it and earn a handsome amount on it.
Traditional Ways to Sell Stuff Online
There are some traditional ways to sell your stuff online. Below, I have mentioned some old and traditional ways to sell stuff online as follows:
eBay

eBay is one of the best online selling apps globally and has an excellent reputation in the market. The website reputation means it has a higher audience so that you can sell almost everything.
eBay gives 50 free listings to Users every month. So, maybe users won't need to pay to list their stuff.
eBay also charges a 10% fee of the total selling price. eBay also uses a rating system.
Craigslist
Like eBay, Craigslist is another online selling platform. It is a platform that lets users sell locally in your area. For registration, go to the site and select the section where you live.
This app is not user-friendly as others, but its reputation ensures access to potential customers.
Amazon
Amazon is the biggest market place where you can sell used items online. There are lots of famous categories, include electronics, tech, books, and jewelry.
Amazon also provides membership for their serious sellers. If you are looking to sell the items sporadically, then Amazon's individual plan is best for you.
Shopify
Shopify is not the platform where you can directly sell the used items. It's a platform that provides the facility to its users to set up your store to sell everything online.
Shopify is a paid platform, but you can try the free trial option of it for checking. There are lots of paid options available, but you can select the one that's best for you. You also have the choice to decrease or increase your plan based on need and sales.
Your own website
There are lots of options to sell items online. But if you are not satisfied with these options, you can also make your own website.
It's challenging to handle than other methods; the main advantage of this method you no need to give any commission to the third-party platform.
Questions You Should Ask Before:
Picking an App to Sell
Picking the best online selling app totally depends on the items you want to sell and the current condition of these items.
What does it specialize in?
First, look at what you are actually trying to sell. Choose the app that is perfect according to your items. For example, a Recycler is an excellent option for selling pets related things. But if you have things related to tech, then Decluttr is the best option for you.
Are there any fees?
Some platforms charge a percentage-based fee and some apps charge a flat fee.
Some websites are very straightforward in terms of their fee structure. So, read the terms and conditions before deciding to sell your stuff.
Conclusion:
Hope the article is according to your demand. We aim to provide deep insight into the best online selling apps. We have conducted complete research on each aspect and then started to write an engaging and concise article in an Informative Tone.
If you are facing any issues while reading the article, let us know in the comment box below! We will reach you soon!